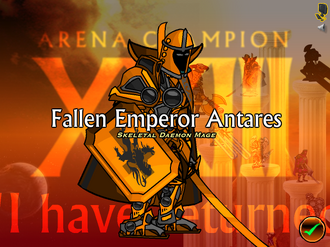 Fallen Emperor Antares is the 23rd arena champion in Swords and Sandals 3.
Backstory
Edit
He was killed in SaS 2: Emperors's Reign, but was revived with black magic.
He is level 70, and a Daemon Skeleton. His taunt quote is: "I have returned, this world shall be mine!". He has 4825 armor points, 2694 magicka and 939 health.
NEVER use Fire Spell against Him. as it will heal him in the same manner Lightning spell heal Omega